Remote support
It is possible to get the support remotely from Thytronic in two different ways: directly from Thytronic headquarter to your relay running on field, or sharing your desktop using our remote support software.
1. FROM THYTRONIC TO YOUR RELAYS
This service is available only for those relays with an assigned IP address, within a local area network. Ask to your IT manager to carry out a NAT (Network address translation) and contact Thytronic for getting our public IP address and port forwarding rule.
If you are able to manage your firewall/router you can easily modify the IP address information in IP packet headers while in transit across your traffic routing device.
Send all the incoming traffic to the LAN Server, your Thytronic relay, entering its IP local address. For WAN user choose Any, or limit access to our public IP address according to your rules. The Start Port and End Port are the same, 502. Ask to Thytronic its public IP address and communicate to Thytronic your public IP address.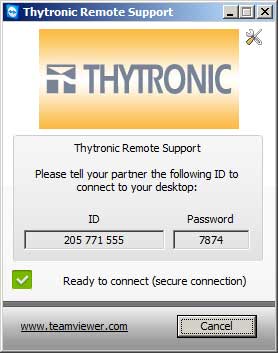 2. DESKTOP SHARING TOOL
Download the Thytronic Remote Support program
either to receive remote support from Thytronic or to attend to a presentation session.
This little application does not even require an installation or administrative rights.
After running the executable program tell to your partner the identification number and password.
The communication has full encryption, based on RSA private-/public key exchange and AES (256 Bit) session encoding. This technology is considered completely safe by today's standards.
The key exchange also guarantees a full client-to-client data protection.
In most of cases it is not necessary specify any setting. If your internet connection uses a Proxy server access to the Thytronic Remote Support options please click on the tools icon in the top right hand corner of the window.

In the category General you have the following options available:
Network settings - Proxy settings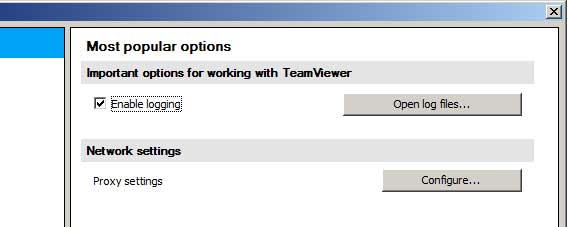 Proxy Settings Dialog box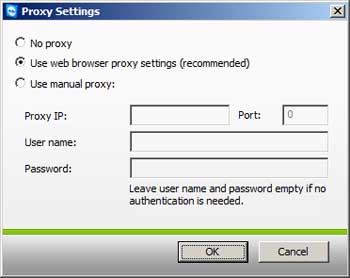 In most cases the default setting (Use web browser proxy settings) will be suitable. You can use custom settings, for example, if you have not configured the proxy settings in your browser.
No proxy. Use this setting if you are directly connected to the internet.
Use web browser proxy settings. Use this setting if you are behind a proxy server and the proxy settings are already configured in your browser (Internet Explorer or Firefox ).
Use manual proxy. Use this setting to manually enter your proxy settings.